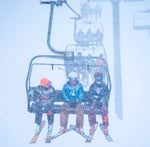 Our Best Day
In true entrepreneurial fashion, Best Day Brewing began as a search for a solution to a problem. Tate Huffard, a craft-beer-loving outdoor sports enthusiast and new parent, was looking for ways to cut back on drinking alcohol. The increasing demands of work, early morning surf sessions, and really early morning baby wake-ups, prompted Tate to search for alternatives. Though he enjoyed alternatives like sparkling waters and kombuchas, they weren't at all like cracking open an ice-cold, full-flavored craft beer; especially in social situations.
Seeing his favorite craft beer in his fridge with 4%, 6% and 9%, he wondered why the same great beers didn't exist with no alcohol. With that simple idea the adventure started. After 5 years of experimenting, tinkering, testing, and tasting the team was finally able to create non-alcoholic craft beers that met their incredibly high standards - beers that they were truly proud of. Best Day Brewing was born, and the resulting beers are now Best Day's flagship products.
Job Opportunities
Best Day Brewing is expanding rapidly, and adding new members to our team. We offer competitive compensation and benefits, and the opportunity to be a part of building an exciting brand in a rapidly-growing category. For more information on job opportunities, please visit our LinkedIn page.