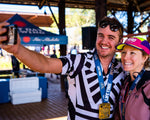 Life Time


National Non-Alcoholic Craft Beer Partnership
Since opening its doors more than 30 years ago, Life Time has evolved beyond fitness to become the nation's premier healthy lifestyle brand, creating innovative communities for healthy living, healthy aging and healthy entertainment. Best Day and Life Time have a multi-year relationship to provide non-alcoholic craft beer as a healthy alternative to those Life Time communities through their events and athletic clubs.

Professional
Pickleball Association
The Official Non-Alcoholic Craft Beer of the PPA
The Professional Pickleball Association is home to the best professionals in the sport of pickleball, and the tour features nationwide tournaments that are highlighted by professional play, beautiful venues, and unique experiences at each stop. Best Day has partnered with the PPA to support this exciting and rapidly expanding tour, including their individual events.